August 12, 2022
7 Ways To Spread Joy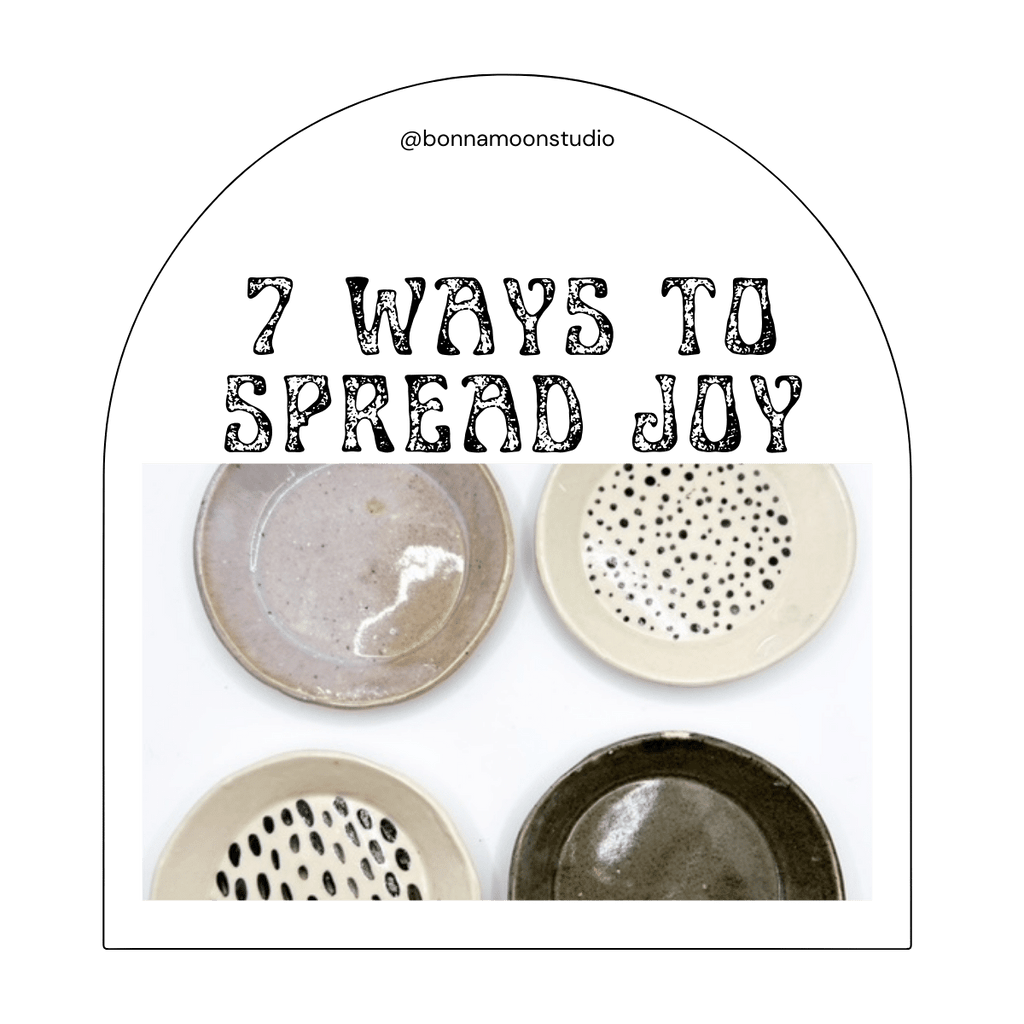 If we've learned anything these last few years, I hope that it's been the importance of our People and our personal communities. Here, we'll define a personal community as what makes up someone's chosen network of people. This is different from the general sense of community which can be more broadly defined by the people who happen to be where you are, as well.  Where a personal community is made up of close family and friends, and if you're lucky, a few colleagues- people who we choose to keep around- a community in general is your town, your workplace, your professional network, maybe your place of worship, etc. I'm making the differentiation here to highlight the impact of being intentional about who you choose to spend your time with and how you show up for each other. Because when we make it a practice to foster connection in our personal communities, doing the same on a larger scale in our broader communities where our energies can be even more impactful becomes a LOT easier. 

Let me be clear: It is not reasonable to expect ourselves to always be in a place where we have the mental, spiritual, and emotional capacities to prioritize other people. But when we are in a place where we have the capacity, let's make good use of the abundance of time and energy and drizzle some honey into the lives of the folks we've built a personal community with. Let's make a concerted effort to live in a way that gives others permission to feel good just by being around them. Let's make a pact to spread as much joy as we can in this lifetime.  

Here are 7 simple ideas to get you started: 




There's nothing like going to the mailbox expecting bills and opening it to find an unexpected note from a friend. It's a little piece of concrete proof that you're cared for and being thought of, and it's a perfect, personal and honestly? A super classy way to reach out.

Not sure where to start or what to say? What if I told you that my very own cousin, Danielle, happens to own a brand whose entire mission is fostering authentic connection? It's called Slow Love Press, and if you head to their website you'll not only find a free downloadable guide to get started but also packs of postcards for $8-$10 that include a writing prompt. AND they come pre-stamped!

It's worth mentioning that even if it wasn't my cousin's brand, I'd be singing the praises of Slow Love Press and their efforts to spread joy and foster connection. 





Looking for something that takes very little effort but has a huge impact? Send flowers or a small houseplant.  2 brands I can vouch for based on their quality, customer service, and unboxing experience: 

The Bouqs Co. 
Ethically sourced flowers from small farms all over the world. Try the monthly subscription, which starts at $40/mo (an insane deal). You can re-route one of your bouquets if you're traveling and won't be home to enjoy them, for mother's day, or if you're just wanting to surprise someone. OR, you can pre-schedule flowers to be sent to a different friend every month. Click here for 20% off your first order.

The Sill
A good variety of high quality house plants and some of the best customer service and customer-forward policies in the game. I recommend gifting a small, low-maintenance plant unless you know your friend is an established plant parent and want to give them something rare or exotic. 



When was the last time you got flowers from your local farmer's market or roadside flower stand? If it's been a minute, I implore you to stop by and grab a bouquet for a friend (and for yourself- why not?). The cost is significantly reduced compared to flower shops or ordering flowers online because there's no cost of transporting, storing or packaging, the quality is incredible because they're so much fresher than ones that have been trucked in, and you'll be able to enjoy buying some botanicals native to your area. I like to bring a pre-written card or note to leave with the flowers and quart-sized wide-mouth mason jar with some water for them to go in and drop them off on the way home- either at their work, if appropriate, or at their front door.  If you're looking to do this in cold weather, swap out the flowers for a small house plant from a local plant shop! Be careful about leaving a plant in the cold for more than a short while- you can leave it in a closed box with hand warmers, but not for long. Bonus points if you surprise more than one friend in one trip!



For A Friend
One of my favorite ways to make a friend smile is randomly sending them $5-$10 with a transaction note that reads something along the lines of "Miss your face! Coffee is on me today" or "Grab yourself a treat on me".  You can get a gift card for their favorite coffee shop and mail it to them with a sweet little note if that's more your speed.
or For A Stranger 
If you find yourself in a drive thru with a little extra room in your budgie, tell the cashier at the window that you'd like to pay for the order of the car behind you. OR Trade in your rewards points for a drink for the car behind you! This is especially smooth if you don't really have the room in your budget and/or don't want to risk their order being more than you're comfortable paying for.




I am greatly in favor of the casual Dinner Party as an excellent way to blast some love and joy around a room with a handful of people that enjoy each other's company.  You can go as simple or as complicated as you feel comfortable going for dinner, but I recommend putting at least a little thought into setting a pretty table, and into what beverages you'll be serving, and into how you'll be setting the vibe with candles and music. Consider having a game or two in mind and on hand if that's your jam.  If you feel into it but are overwhelmed by the idea, try splitting up the meal prep amongst your friends and keep the guest list small. I've found that about 6 people in total (including you) keeps the group in conversation together without as much splitting off into groups.

I recommend looking to Frankie Calenza for recipes at any skill level, but especially if you're not super comfortable in the kitchen, or to Alison Roman if you've got some cooking skills.

Not into hosting? Make plans to meet at a restaurant instead!




Take the excuse of a friend's new job, new house, graduation, promotion, or just taking pleasure in their existence to pop in to your favorite local gift shop or boutique and pick out a small gift. Think- a pair of earrings, a jar of jam or honey, some fancy chocolate, a bottle of wine, a coffee mug, lip balms, a candle, a couple sheet masks, bath bombs, a book, a journal, or whatever little treasure you can find to put together a thoughtful gift.  Don't have time to stop in to a shop? Let me help you.





There are a few ways to approach a virtual game night, but whatever you choose will lead to a great way to spend some time connecting with friends without anybody leaving their dens. Make sure you're able to chat if you're playing online, or everybody set up their gameboards, get on Zoom or Facetime and play together that way. It's a little tricky, but everybody keeps track of the board as a whole and move pieces around as people take their turns. Bonus points if you're all extra enough to be snacking on a predetermined menu, like chicken nachos using my chicken taco meat recipe!












This post contains affiliate links